The Oregon press has been busy covering Farmland LP over the past month.
First, the Gazette Times of Corvallis and its sister paper in Albany put us on the front page  (Sunday above the fold even).  Photographer Amanda Cowan took some nice pictures, including the one below.  The writer Bennett Hall framed the story in a way that I think will interest a broad audience.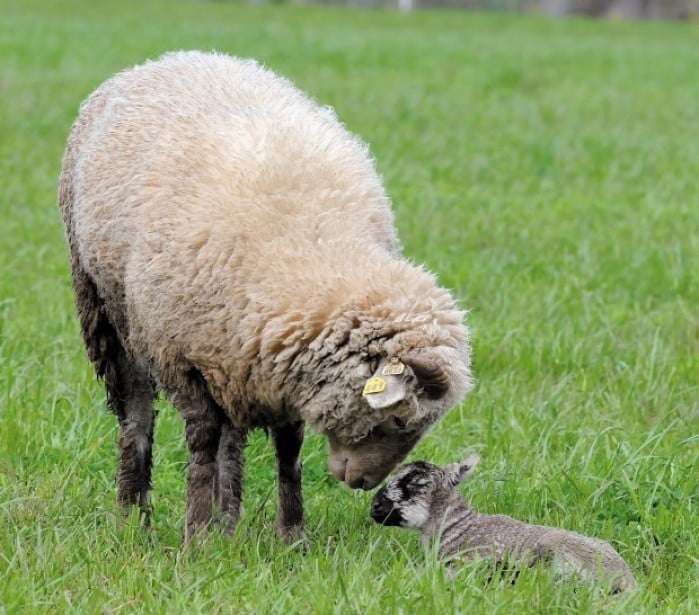 Bennett did a great job describing how we manage farmland and produce delicious food:
To rebuild the natural fertility of the soil, the land has been replanted with a complex mix of forage crops and is being used to graze sheep. Once depleted soil nutrients have been replenished, it will go into a rotation of annual food crops and pasture.

In the meantime, the land is already supporting a thriving sheep business. Vitality Farms, a separate entity run by Bradford and livestock manager Mac Stewart, is leasing the Corvallis-area property from Farmland LP.

"This spring we'll lamb about 750 ewes, then another 150 this fall," Stewart said.

"Per capita consumption in the U.S. is pretty low, but lamb is kind of on the upswing," he added. "It's one of the new 'in' foods."

Prices are good right now, and Vitality Farms should be able to command a premium from health-conscious foodies for certified organic meat. To make the most of that marketing advantage, the company is bringing in some new sheep-handling equipment, including a computerized ear-tagging system for tracking information on individual animals.

"It will allow us to do more precision management. It'll allow us to say, 'This lamb came from this farm,'" Bradford said.

"We're really excited about that. People want to know, just like the terroir of grapes, what's the terroir of this lamb?"
Next up we had some attention from Christine Williams of The Portland Business Journal.  Her article was about sustainable agriculture and business in the region, covering Farmland LP along with several  investment funds such as Meyer Memorial Trust and Equilibrium Capital.  In a companion piece, I was honored to be named as a "Leader of Oregon's Sustainable Economy" along with nine others doing excellent and vital work.
Most recently the nation's only newspaper dedicated to agricultural reporting, Capitol Press, put us on their cover.  The story was later picked up by the Daily Astorian and cross posted by Oregon Public Broadcasting.  Writer Mateusz Perkowsky also took the pictures and got a good one of Mac Stewart and me.
The Capital Press article was generally about the Slow Money investment movement, with a focus on the Pacific Northwest.  A section about Farmland LP explains:
Bradford is making costly improvements to 2,000 acres of farmland in Oregon and California. His company, Farmland LP, will obtain organic certification on the properties and install irrigation equipment, fencing and other amenities in hopes of attracting farmers to lease the land.

"We make all that investment up front," Bradford said. "There's an infrastructure investment that's needed to do that."
I like that part of the article because it explains how we are different from other land owners in that we are willing to make capital improvements.  A problem farmers often face with leased land is poor development of major infrastructure.  A non-owning farmer does not have the long-term incentive to make expensive, slowly depreciating investments while many farm owners are using land as passive income vehicles and lack the resources or interest to make significant improvements.
It is interesting that all this attention came at once.  Perhaps it is the season?  Thanks to all the writers and photographers who've taken time to listen to and report our story.