The growing Farmland LP team welcomes its newest member, Samantha ("Sam") Thompson, hired as Chief of Staff.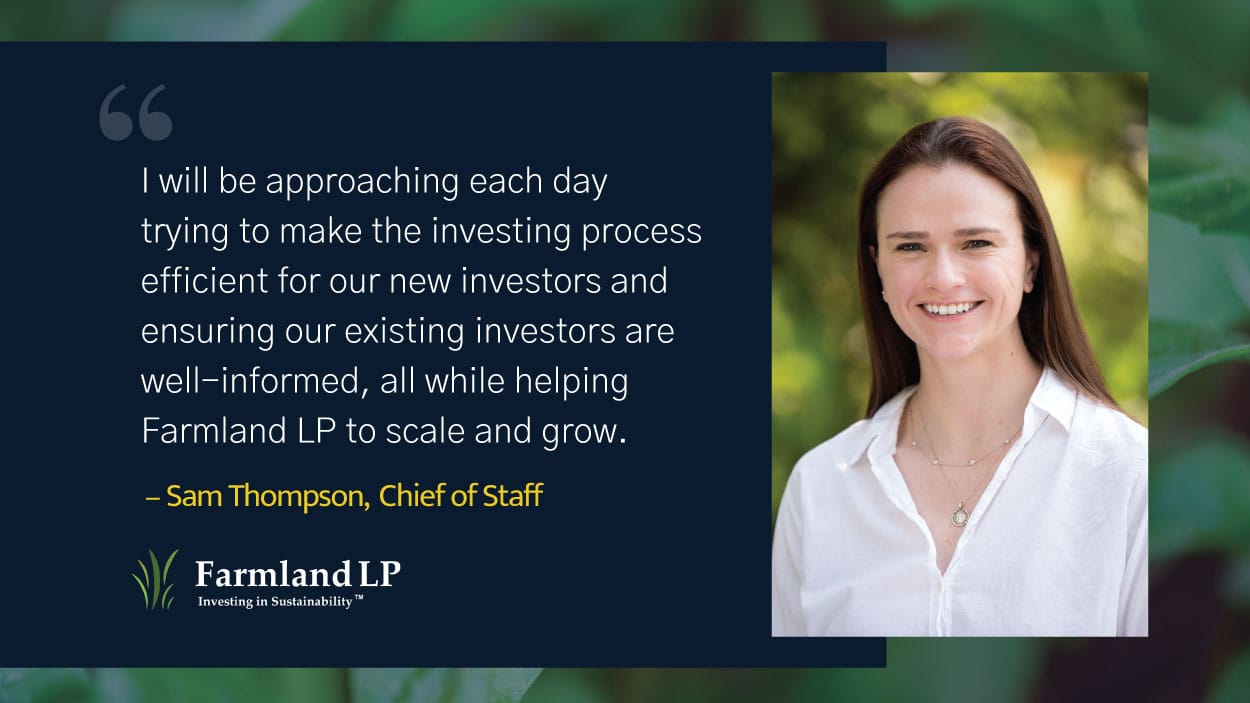 Prior to joining Farmland LP, Sam was the Deputy Special Counsel to the Chairman at MacAndrews & Forbes, Ronald Perelman's holding company, where she advised on legal, compliance, and risk management matters, managed corporate, philanthropic, and special projects, and oversaw internal operations and processes. Sam graduated from the University of Pennsylvania with a B.A. in Communications and a minor in Consumer Psychology before earning a J.D. from the University of North Carolina School of Law. She began her career as a commercial real estate attorney at a large, southeastern law firm, and has experience in executive recruiting and leadership development.
Assuming the newly created Chief of Staff position at Farmland LP, Sam is looking forward to embracing the dual responsibility of forging strong relationships with the firm's personnel and building on Farmland LP's current standing as the largest organic farmland fund manager in the U.S. and a platform for regenerative agriculture investors.
Get to know Sam in this brief Q&A.
What is the core function of a Chief of Staff?
The job description is that there is no standard job description. On any given day, I might be involved in strategy development, business operations, executive meetings, and, quite often, all of the above. Ultimately, the calling card of a Chief of Staff is to have a willingness to learn and absorb information in a way that you apply to the job going forward.
How will this newly created role help Farmland LP investors?
I will be approaching each day trying to make the investing process efficient for our new investors and ensuring our existing investors are well-informed, all while helping Farmland LP scale and grow. For me, it means working on new initiatives, streamlining existing processes and procedures, and helping our team map Farmland LP's future. Being Chief of Staff also requires reactive and proactive thinking, while looking for ways to enhance our investor process and simultaneously address feedback on what can be honed and improved.
Trust is so important. We want our investors to feel truly connected to the Farmland LP team. We operate in such a unique and greenfield investment space, so instilling confidence in the earnings potential of regenerative agricultural alongside the environmental and social impact is front of mind in approaching this job.
What attracted you to the regenerative agriculture movement?
Put simply, who doesn't love food? Whether it's eating, cooking, or now better understanding the sustainability side of what we eat, food has always been a happy place for me. Furthermore, the regenerative agriculture asset class itself is rewarding in that it is a tangible asset you can feel (and taste). I'm also able to apply a lot of the background and insights I gained during my time working in real estate since our model of managing farmland closely resembles managing commercial real estate.
What excites you about the potential of the regenerative agriculture industry?
I am very excited to see this asset class continue to grow in popularity, especially as high-profile investors like Jeff Bezos and Bill Gates and their family offices are investing in farmland. The growing popularity of farmland as an asset class is opening people's eyes to the return potential of this market. Farmland LP is one of the few options available for accredited investors, family offices, institutions, and clients of wealth managers to invest in high-quality agriculture opportunities with an experienced investment team. Furthermore, investors should feel good about investing in regenerative agriculture because it benefits people, families, the land, local communities, and our planet. Many investors today are looking to pair sound investing strategies with global impact considerations. Farmland LP and our regenerative agriculture practices bring the best of both worlds.